100 nhà văn kêu gọi tự do tại Trung Quốc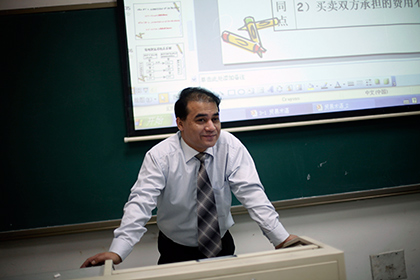 Hơn 100 nhà văn, trí thức từ khắp thế giới đã ký tên vào một bức thư gởi đến Chủ tịch Tập Cận Bình, đúng Ngày Quốc tế Nhân quyền 10 tháng 12, kêu gọi Trung Quốc chấm dứt ngay những hành động đàn áp nhân quyền "ngày càng tồi tệ".
Bức thư, do tổ chức Văn bút Quốc tế (International Pen) khởi xướng, kêu gọi chính quyền Trung Quốc trả tự do cho các nhà văn, nhà báo và nhà hoạt động đang bị cầm tù, bị quản thúc tại gia chỉ vì họ đã hành xử quyền tự do ngôn luận.

Trong số những người ký tên vào bức thư có các nhà văn nổi tiếng thế giới như Salman Rushdie, Magaret Atwood và giải Nobel Văn Học JM Coetzee. Bức thư đặc biệt nêu trường hợp giải Nobel Hòa Bình Lưu Hiểu Ba hiện đang thi hành bản án tù 11 năm về tội "âm mưu lật đổ chính quyền".

Các nhà văn thế giới cũng chú ý đến số phận của học giả Ilham Tohti, hiện đang thụ án tù chung thân về tội "ly khai", do đã chỉ trích chính sách của Bắc Kinh đối với thiểu số Hồi giáo Duy Ngô Nhĩ.

Dưới đây là toàn văn bức thư:
10/12/2016
Today, on World Human Rights Day, our Pen International community of writers, readers, activists and publishers condemn the Chinese authorities' sustained and increasing attack on free expression and call for an immediate end to China's worsening crackdown on fundamental human rights.
We cannot stand by as more and more of our friends and colleagues are silenced. Where is the voice of Ilham Tohti, the Uighur scholar and Pen member currently serving a life sentence, when his life's work has been about creating peace and dialogue in China? Where is the voice of veteran journalist Gao Yu, who spent close to two years in prison and is now under house arrest? Where is the voice of publisher Gui Minhai, who disappeared from his holiday home in Thailand and is now being held incommunicado? Where is the voice of Nobel peace laureate and former president of the Independent Chinese Pen Centre, Liu Xiaobo, serving an 11-year prison sentence and the voice of his wife, the poet Liu Xia, who has been under house arrest for over six years without even having been accused of a crime?
These writers represent the many critical voices across China currently being silenced, including the imprisoned and persecuted members of the Independent Chinese Pen Centre: Yang Tongyan, Zhu Yufu, Lü Gengsong, Chen Shuqing, Hu Shigen, Qin Yongmin, Liu Yanli and Liu Feiyue; and honorary members Zhang Haitao, Sun Feng, Lu Yuyu, Li Tingyu, Huang Qi and Su Changlan. The enforced silence of these friends and colleagues is deafening, and the disappearance of their voices has left a world worse off for this egregious injustice and loss.
Today we call for their words to reverberate across the globe as we commit to fighting for their freedom until China heeds our call. On days like today we have to reaffirm our refusal not to be complicit in their silence. We have to use our own words to give power to theirs.
China and the rest of the world can only be enriched by these opinions and voices. We therefore urge the Chinese authorities to release the writers, journalists and activists who are languishing in jail or kept under house arrest for the crime of speaking freely and expressing their opinions.
We urge them to uphold freedom of expression and all human rights.
Abraham Zere - Pen Eritrea
William Nygaard - Pen Norway
Adriaan van Dis
Ah Phyu Yaung Shwe
Aleid Truijens
Alejandro Sánchez-Aizcorbe - Peruvian Pen
Alexander McCall Smith - Pen Writers Circle
Anders Heger - Pen International
Andrew Solomon - Pen America
Anna Nasiłowska - Polish Pen
Annika Thor - Swedish Pen
Anotnio Della Rocca - Pen Trieste
Baoqiang Sun
Burhan Sönmez - Pen Writers Circle
Carles Torner - Pen International
Carme Arenas - Pen Catala
Catherine Vuylsteke
Chaw Ei Mahn
Chimamanda Ngozi Adichie
Chit Kyi Aye
Christine Otten
Chu Cai
Colm Toibin - Pen Writers Circle
De Novo
Depu He
Dr Mirror (Taung-gyi)
Elif Shafak - Pen Writers Circle
Eugene Schoulgin - Pen International
Feng Hu
Fiona Graham Scottish Pen
Frank Mackay Anim-Appiah Pen Ghana
Ghareeb Asqalani
Gloria Guardia Pen International
Go Go Mawlamyaing
Guozhen Xiao
Hakan Günday - Pen Writers Circle
Han Zaw
Hanan Al Shaykh - Pen Writers Circle
Hanan Awwad - Pen Palestine
Htar Oak Thon
Iman Humaydan - Pen Lebanon
Isabel Allende - Pen Writers Circle
Jennifer Clement - Pen International
Jianguo Zha
Jianhong Li
Jianhua Li
Jianzhen Qi
Jiro Asada - Japan Pen
JM Coetzee
Joanne Leedom-Ackermon - Pen International
Judyth Hill - Pen San Miguel
July Moe
Juraj Šebesta - Slovak Pen
Khin Aung Aye
Khin Mg Oo
Khin Moe Shwe
Khin Mya Zin
Kyar Phyu New
Kyaw Zin Ko Ko
Kyawt Darli Lin
Lebao Wu
Let Yar Tun
Liyong Sun
Lucina Kathmann - Pen International
Ma Thida - Pen International
Magali Tercero - Pen Mexico
Magda Carneci - Pen Romania
Manon Uphoff
Margaret Atwood - Pen Writers Circle
Margie Orford - Pen South Africa
May Zun Aye
Mi Chan Wai
Michelle Franke - Pen Centre USA
Mingmin Lin
Mircea Cartarescu
Mohamed Sheriff - Pen International
Moris Farhi - Pen International
Mya Thway Ni
Myat Lwin Lwin Aung
Myat Su Lwin
Myay Hmone Lwin
Myo Myint Nyein - Pen Myanmar
Nan Kyar Phyu
Nedzad Ibrahimovic - Pen Bosnia-Herzegovina
Neil Gaiman
Nguyên Hoàng Bao Viêt - Pen Suisse Romand
Ngwe Kyel Sin
Nyi Pu Lay
Pandora
Per Øhrgaard - Danish Pen
Per Wästberg - Pen International
Ping Hu
Randy Boyagoda - Pen Canada
Regula Venske - Pen Germany
Renate Dorrestein
Salil Tripathi - Pen International
Salman Rushdie - Pen Writers Circle
Samay Hamed - Afghan Pen
Saw Wai
Shiying Zhao
Shwe Eain Si May
Shwe Naung Yoe
Sirpa Kähkönen - Finnish Pen
Sjón - Icelandic Pen
Sofi Oksanen - Pen Writers Circle
Suu Mie Aung
Suzanne Nossel - Pen America
Syeda Aireen Jaman- Pen Bangladesh
Thet Wai Hnin (Aung Lan)
Tienchi Liao - Independent Chinese Pen Centre
Tung Van Vu - Vietnamese Abroad Pen Centre
Vida Ognjenovic - Pen Serbia
Vonne van der Meer - Pen Netherlands
Waheed Warasta - Pen Afghanistan
Wenxiu Lin
Willem Jan Otten
Yann Martel - Pen International
Ye Shan
Yeliang Xia
Yongmei Cai
Yrsa Sigurdardóttir
Yu Zhang
Zeynep Oral - Pen Turkey
Zhao Chen
Zwel
Ảnh trên: Ilham Tohti, một trong số các nhân vật được nhắc tên trong lá thư, Giáo sư Đại học chuyên ngành Kinh tế, người đã được trao giải Nhân quyền Martin Ennals Award (vào tháng 10/2016). Ông là một người dân tộc Duy Ngô Nhĩ (Uyghur), có nhiều nghiên cứu và hoạt động thúc đẩy đối thoại giữa các dân tộc.
Các tin khác: